Solar powered-fans are a smart and eco-friendly way of keeping your attic ventilated and cool. They work by ushering the stale, warm air out of your attic and bringing in more cool, fresh air. The warm, moist air is expelled from the attic in the summer which will lower the chance of mold development.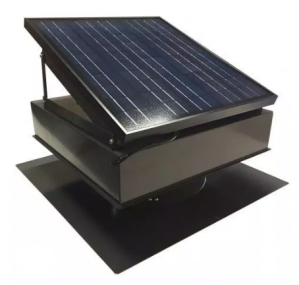 In the winter, warm air from the attic collides with the cold air outside and is pushed out by the solar fan. This cooler, dry air prevents condensation and mold from developing in your attic. In addition, the air conditioning will need to work less in a properly-ventilated attic. 
Interested in getting a solar fan installed in your attic? Let us install it for you! We offer a lifetime warranty on the parts and a 5 year labor warranty. Complete the following form to the left to request more information!